---
Victory for Leave: UK Put on Brexit Path
It is now beyond all doubt that Leave has won the referendum and the UK is set to leave the EU. Despite the most recent pre-referendum polls putting Remain ahead, Leave have clinched a small victory.
We think it will be 52% to 48% as a final result. Turnout was 72%.
Financial markets have already reacted to the news; the pound is at its lowest level since 1985 and the FTSE 100 is predicted to open down 8 points.
In Scotland and London, Remain won by a large margin. What we face ahead is uncertainty. Will we be plunged into recession? Will David Cameron stay on as Prime Minister? How long will it really take for us to leave the EU?
05:29 Friday
---
Key Points:
Formal result expected 07:00 on Friday
UK has voted to LEAVE (predictions)
Pound has dropped to its lowest level since 1985
---
Scotland backs remain by 62% to 38%
Scotland has voted overwhelmingly to remain in the EU, but it looks as if it will be in vain. England and Wales look set to vote Leave overall.

05:29 Friday


---
Birmingham Votes Leave with 50.4%
At the beginning of the night, predictions put Remain on 55%. In reality, Leave have clinched it ever so slightly.

04:34 Friday


---
Leave 'expected to win'
Most indicators are now suggesting we are set to leave the European Union. Although we are still far away from final results, Leave have done better than expected in areas such as Newcastle and Sunderland as well as in Wales. Indicators also suggest that turnout in London will be lower than expected, adding to Leave's chances.

For the first time during the referendum, betting odds have moved in favour of a leave vote. Political commentators have also been shifting predictions in favour of leave, and sources from Remain suggest they also believe we could be set to leave the EU.

02:14 Friday
---
Are we in or out? Vote in our poll:
Are we staying or going?

— Student Voices (@StudentVoicesUK) June 24, 2016
01:47
Friday
---

Pound collapses at early results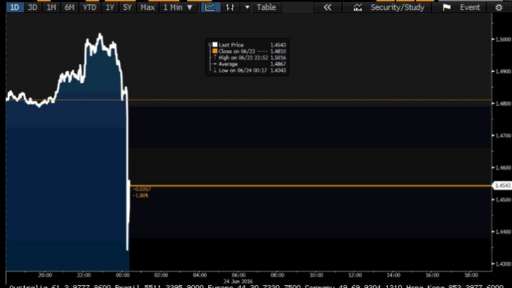 00:47 Friday
---

Sunderland: 61% Leave, 39% Remain
Turnout was 65%.


00:00 Friday


---

Newcastle Result: 50.7% Remain
65,404 for Remain; 63,598 for Leave. 67 % Turnout. This may not be good for Remain who were expecting a much higher win for Remain about 60:40.


00:00 Friday


---

Gibraltar Result: 96% Remain
19,322 for Remain; 823 for Leave


23:22 Thursday


---

Remain looks the likely victor
Nigel Farage believes Remain has won and Remain campaigners on the BBC and Sky coverage look positive. The YouGov poll today put Remain at 52 with Leave on 48. In fact, Remain supporters and MPs seem willing to say they believe they have won, whereas Leave (for example Douglas Carswell) don't go that far for their side.


23:22 Thursday
---
84% Turnout in Gibraltar
Gibraltar has reported an 84% turnout in the referendum. If this is anything to go by then turnout could be record breaking.
Ian Duncan Smith told the BBC: "people who don't normally vote are voting" and that "turnout in council estates is very high". In fact, high turnout has been reported from all over the UK throughout the day.
---
Farage: 'Remain will edge it"
Nigel Farage just told Sky News that it "looks like remain will edge it". Is it not a bit early for a concession?

22:10 Thursday
---
Polls have closed!
Welcome to our live blog! Polling has officially closed - stay with us throughout the night for the latest updates and insights.
As the polls closed, '#IVotedLeave' was the number one trend on Twitter. In second place, '#SuggestAJobForFarage'. Neither really give us any indication on which way the vote will go.
Polling before the vote was mixed. One gave Remain a large victory, another gave Leave a modest victory.
---
VOTE IN OUR EXIT POLL
EU Referendum LIVE
Reviewed by
Student Voices
on
09:00
Rating: